Yin Yoga & Chinese Medicine 25 hours Module
Next year the Arboga Yin Yoga Academy will be hosting a workshop with Marieke Vliegen, an internationally experienced yin yoga teacher trainer with special knowledge in Chinese Medicine. The training will take place at Jädersbruks Herrgård between August 18-21, 2021.
In Yin Yoga, postures are held for longer periods of time to stimulate the energy flow in the body. It's a practice focused on cultivating stillness and helps us to turn ourselves more inward while stimulating the connective tissues, fascia and joints, in the body. Especially in our daily life, a lot of our activities are yang in nature and have a 'go for it' attitude. Engaging in yin activities helps our body and mind to find the necessary balance between doing and observing – being. We need both aspects, yin and yang, in our lives in order to feel healthy. According to Chinese Medicine, there are energy channels running through the body, meridians. In order to feel healthy and happy, the energy needs to flow smoothly through these meridians. A Yin Yoga practice can help to stimulate this energy flow so that the physical body can feel at ease, inviting the mind and emotional body to follow. In this 25 hour Yin Yoga and Chinese Medicine Module we will dive into the world of yin yoga and the holistic view of Chinese Medicine.
This course will introduce you to the wisdom of Chinese Medicine and how to integrate this into your Yin Yoga practice & teachings.
You will learn about:
Yin Yang Theory
The history of Chinese Medicine
The Meridians in the body
Meridians and the Emotions
Chinese Medicine lifestyle and Diet
The Five element theory
The Meridian Clock
The different treatments in Chinese Medicine
Meridian Nidra
Guasha treatment
There will be a combination of lectures, practice and self-study.
This module is suitable for students who like to deepen their own practice but also for teachers in a small, personal group setting. Registration is open to all, though previous experience in practicing yin is advised.
Schedule: August 18-21, 2020
Thursday: Arrival, dinner and opening session at 18.00
Friday: Study session 08.30-19.00
Saturday: Study session 08.30-19.00
Sunday: Study session 08.30-16.00
All times above include lunch and other breaks.
The course is eligible to be registered as Continuing Education Hours under Yoga Alliance.
Workshop fee:
4290 SEK (early bird before 31 October 2021)
4890 SEK (1 November 2021 onwards)
Registration: info@ayya.se
Food and accommodation (to be payed separately to Jädersbruks Herrgård upon arrival):
2940 SEK
Number of participants: 8-20
About Marieke Vliegen:
Marieke Vliegen is based in The Netherlands. She is an experienced international Yinspiration trainer and senior assistant to the founder of The School of Yinspiration Yin Yoga, Jo Phee. Marieke shares Jo Phee's knowledge that she gained from her teacher and founder of Yin Yoga, Paul Grilley and combines this with Chinese Medicine. Besides teaching public classes, workshops and teacher trainings internationally, Marieke assists her teacher all over the world on a regular basis to keep her knowledge up to date. She is a Yoga Alliance certified E-RYT 200 trainer & YACEP.
This workshop is organized and hosted by:
Arboga Yin Yoga Academy in cooperation with Jädersbruks Herrgård. Arboga Yin Yoga Academy is an education center for yin yoga and yin yoga related topics, founded by Elisabeth Kaufmann in June 2018. Please contact Elisabeth (info@ayya.se) for all questions regarding the workshop and Lola Baumgarten (info@jadersbruk.se) for all questions regarding food and accommodation!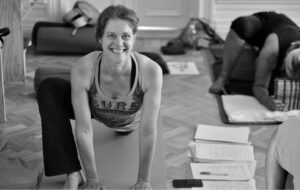 Järntorget 12A, 732 30 Arboga | tel 070-2231858
e-post info@ayya.se | www.ayya.se